Menu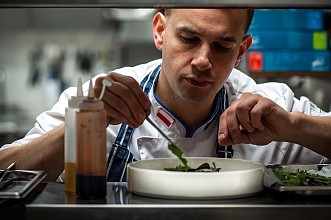 We are particularly proud of our restaurant
The chef, Marcin Kurzawa, invites you to the restaurant, where we cook according to the concept of Slow Food. We focus on natural products, cooperation with small, regional suppliers and a craft-based approach to food creation. Good products and passion – find out what such a combination tastes like in the Academy restaurant..
In our kitchen, we do everything we can on our own. We bake our own bread and rolls, we make jams from local products, we produce our own patties and even have our own ice cream! We obtain organic flour from the nearby mill and silage is supplied by a friendly farm. In spring, we will finish the construction of a wood-fired stove and smokehouse. We will also plant our own herbs and vegetables. We pay great attention to the quality of our dishes, because we want to feed you in a way that is both delicious and healthy. Our mission is to create traditional Polish dishes, but in a modern style. That way you can rediscover the flavors that you should already know.
We use modern cooking techniques, such as sous vide, which involves subjecting vacuum-sealed meat to a multi-hour water bath. This makes it exceptionally delicate, juicy and fragile. We smoke steaks using devices called Green Egg. Interesting visual effects are obtained by means of liquid nitrogen. And everything is beautifully served in unusual vessels, so that the visit to our restaurant is also a treat to the eye.
Download the current menu here